About Scenic Tool & Stamping, Inc.
The humble beginnings of a father and son team are the foundation of Scenic Tool & Stamping. One piece of equipment at a time, Mike and Todd Blackwell converted their 900 sq ft Campobello, SC garage into a production facility to produce high-quality, precision tooling. Within a year's time, the demand of their sole customer led them to hire Charlie, Eric, and Tim. The new team of 5 was formed just in time for the company's first order for a stamping die, which they designed and built in that same garage. Some might say it was unfortunate that the customer never ordered a single part from that die, but Scenic Tool & Stamping, Inc. proudly considers that the start of our business today.
We are still family-owned and operated, but things have changed a little since 1995. It now takes a team of nearly 50 to satisfy the needs of our diverse customer base and the 900 sq ft garage is once again a place to park cars. In 2019 we opened the doors to our new 41,000 sq ft facility right on Scenic Highway 11, our namesake. With a view of the Appalachian Mountains and room to grow, Scenic Tool & Stamping, Inc. is ready to take on new challenges.
Amidst the many changes, the initial inspiration remains. Every employee at STS is driven by the needs of our customers and their passion for quality. Our priority is to continue to meet the needs of our customers with quality products delivered on time.
The ethical principles that guide our actions are:
► To honor all of our commitments
► To exercise honesty and integrity
► To use our God-given talents for His Glory
In the end, we give GOD all the glory for the origination and the sustaining hand in Scenic Tool & Stamping. We are strong believers that as we continue to support His work of spreading the Gospel of Christ around the world, He will continue to bless our company. Great things He hath done.
Scenic Tool & Stamping, Inc. supports the spreading of the Gospel of Christ by supporting missionaries across the world:
► Steven and Darlene Fanning and family, Missionaries to Bolivia, South America
► Mickey and Trina Cofer and family, Missionaries to Mongolia
► Randy and Donna Bane and family, World Wide Evangelism
► Aaron and Alycia Cruse and family, Awake America
► Bobby Stewart and family, Faith for America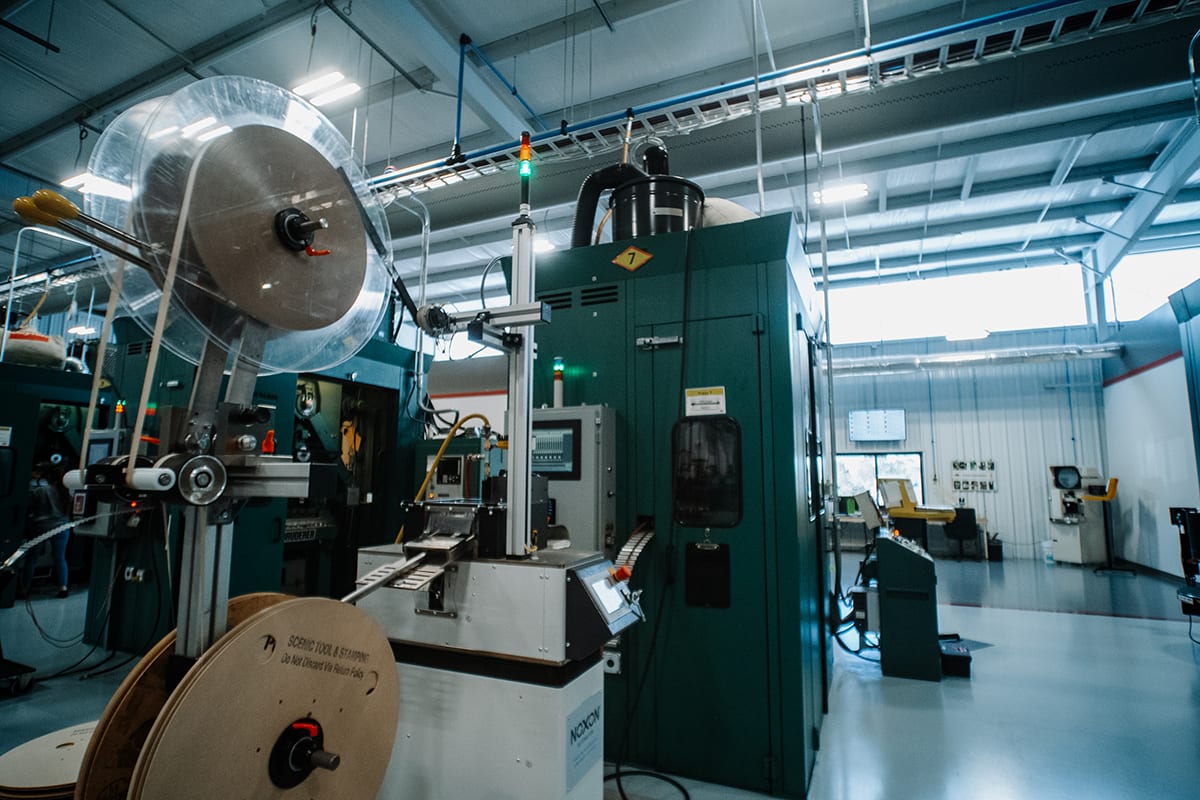 Our Expertise
Quality
Top management shall commit to providing an environment for each employee to do the following:
► Meet the needs of their customer (internal and external)
► Meet those needs on time
► Seek ways to improve their work so that the company can continue to be successful and grow
Scenic Tool & Stamping maintains a robust Quality Management System that extends far beyond the minimum requirements. We strive to continuously improve our system with regular management reviews, elective surveillance audits and suggestions for improvement from employees and customers.
At Scenic Tool & Stamping, we strive to detect or prevent all quality issues. Tools are designed with lessons learned in mind; job setups are error-proofed; documented and inspection intervals are specified for each stamped part. Over the past few years, we have added two additional layers of inspection beyond the typical in-process inspection. The first is a vision system used in the manufacturing process. This system will monitor every part for defects such as missing features, bent parts, large burrs and slivers, excessive oil and trash. The second layer recently added is roving inspection. The quality team is dedicated to a roving inspection process that covers documentation, labeling, manufacturing details as well as visual and dimensional inspection. These additional layers provide your company the freedom to do business with confidence.
Scenic Tool & Stamping is prepared to meet your quality needs during the approval process and throughout the life of the project. We cover all of the typical requirements including any level PPAP and will work with you on any additional needs as well. Our quality and engineering team are fully equipped to provide:
► Design for Manufacturability
► Statistical Process Control
Scenic Tool & Stamping is registered to ISO 9001:2015. Click here for a copy of our latest certificate.
Our Expertise
Industries Served
We offer full-service stamping solutions for a variety of industries. As a contract supplier, we produce parts to order based on customer requirements. We can work from prints or drawings and can also assist in creating prints when necessary.